<!BODY BACKGROUND="http://www.artscipub.com/gif.files/Repbknd.GIF">


<!WIDTH=75 HEIGHT=108>
Repeater MapBook
& Repeater Directory


---

Now with GRID SQUARES on every U.S. Map!
A PERFECT travelling companion. The Mapbook contains locations of hundreds upon hundreds of open repeaters throughout the U.S., Canada and Mexico.
These DETAILED maps show all highways and major cities in each state. If you travel anywhere in the United States, this MAPbook will be the best investment you ever made!!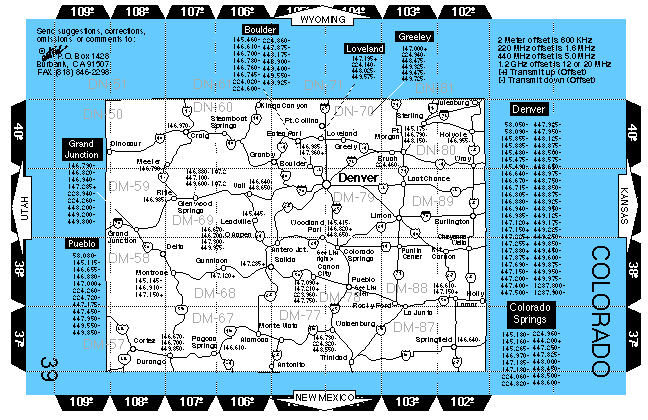 Each state has a table listings of every known open repeater in the state. 10,6,2 meter, 220, 440 MHz and 1.2 GHz repeaters are shown.

If you would like to review the open repeater database take a look at our open repeater pages on the Internet.

Maps and listing are also included for Canada and Mexico.

Repeater Mapbook sells for $ 9.95 each.

---

---

We would appreciate any comments:books@artscipub.com Artsci Inc.
Post Office Box 1428
Burbank, CA 91507
(818) 843-4080
(818) 846-2298 FAX


Copyright ©1995,96,97,98 artsci inc. all right reserved.
and counting since 9/12/96


---