---
Simpleton's
Guide to:
PL Decoding/Speaker Muting


Brought to you by:
Artsci
Publishing




---
I t is sometimes useful to keep your radio on at all times while waiting for an important call. However the chatter of other users may become a problem. My good friend Bill likes to have his wife Jan monitor the base radio at home. During high radio traffic times, she will turn the volume down to avoid listening to others. It is then too low for her to hear Bill when he calls.

Bill put together this simple PL decoder circuit and attached it to his base radio. Now the radio speaker is disconnected unless the proper subaudable PL tone is used. Bill always transmits the correct PL tone when he wants to talk to Jan at home. He keep the base radio volume very high so Jan can hear him calling from almost anywhere in the house.

His circuit makes use of the popular TS-32 PL Decoder by Communication Specialists. Most repeater systems use this decoder because it is very reliable and simple to use. He has included a defeat switch to remove the PL requirement when using the radio for normal two-way communications. The TS-32 PL Decoder board has a special "HANG UP" pin that is grounded through the switch and will keep the relay triggered and all audio will pass to the speaker.

Bill suggested using the other side of the relay to activate a horn, buzzer or light of some kind. I built one of these circuits and used it in the car to flash a light when one of my friends call me. I see the light and turn the stereo down and answer the call. 73 and have some fun..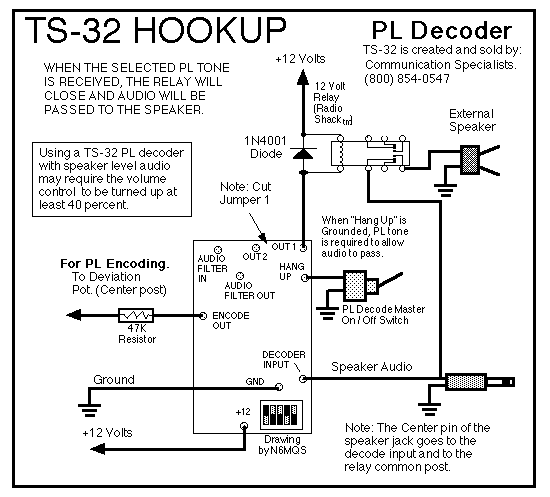 ---
---
We would appreciate any comments you may have and we welcome your e-mail comments at :artsci@artscipub.com Artsci Inc.
Post Office Box 1428
Burbank, CA 91507
(818) 843-4080
(818) 846-2298 FAX
Copyright ©1996-<%=year(date)%> artsci publishing. all right reserved.
---