Softalk

OUR FIRST ISSUE OF SOFTALK EXPLAINS MANY OF THE QUESTIONS WE HAVE RECEIVED ABOUT SOFTAPE SOFTWARE. EVERY SOFTALK WILL TRY AND ANSWER THE QUESTIONS YOU MAY HAVE ABOUT PROGRAMMING YOUR APPLE. OUR GOAL WILL BE TO SUPPLY YOU WITH THE PROPER PROCEDURES TO AID YOUR PROGRAMMING EFFORTS.

OUR FIRST ISSUE EXPLAINS OUR NEW PREFIX ROUTINES. THIS SINGLE ROUTINE WILL MAKE YOUR PROGRAMMING 1,000 TIMES EASIER. WE WILL BEGIN BY SHOWING YOU THE PROCEDURE OF APPENDING A PREFIX. FOLLOW THE DI RECTIONS CAREFULLY. IF YOU HAVE ANY QUESTIONS, WRITE US ABOUT THEM. WILL ANSWER YOUR QUESTIONS IN OUR NEXT ISSUE.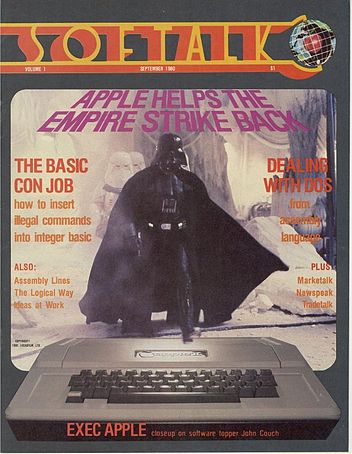 IF YOU HAVE DISCOVERED AN IMPORTANT FACT ABOUT YOUR APPLE, LET US KNOW. WRITE AN ARTICLE FOR SOFTALK. WE MAY PURCHASE IT FROM YOU!
GOOD LUCK WITH YOUR PROGRAMMING!
Softalk is the official newsletter of the Softape Software Exchange.
Editor: Wm. V. R. Smith
Technical Editor: Wm. H. Depew
Subscription Price $5.00 - 12 issues
In July 1980 Artsci teamed with Margo Tommervic to take Softalk to the next level. Softalk turned into THE major Apple II monthly magazine.
Apple supplied their Customer warrenty Card database for the Initial Issue in September 1980